Hear Ye, Hear Ye, the Alberta Genealogical Society is presenting the

Ye Olde Genealogy Faire

in what promises to be an exciting fun-packed and informative conference. Notable authors, historians and specialists will enlighten the audience with presentations on Canadian, Quebec, British, Irish, Scottish, East European, Czech genealogy, DNA technology, FamilySearch, WDYTYA, WWI, Social Media and more.
Genealogical conferences are a great place to meet and mingle with the people who "speak your language" and face the same challenges. View the marketplace: the exhibits, the products and services that could make your research so much easier. You will go away with experiences of real lessons learned, dozens of ideas, and innovative solutions that you can use immediately.



















Watch for AGS announcements regarding our 2017 Conference, and plan to join us on 22nd and 23rd April 2017. We would love to see you there! For more information or to volunteer, please contact Lianne or Susan through our web form below.

---

Early-bird registration ends March 15!

---

Read about our Speakers


Peruse speaker biographies, photos and presentations ›

---

---

Gena Philibert Ortega

writes about the Ye Olde Genealogy Faire at GenealogyBank ›

---

Join our Marketplace by becoming a Vendor

---

Show-off your product or service, or generously donate. No gift is to small

---




---






Saturday Events, 22 April 2017

Entertainment: Medieval

(Tickets $38 per person)




Join The Red Stags performers—Lord and Lady Jaburek—for a historical live action role play that uses high impact foam weapons with real armour at the AGS Banquet Saturday evening. The entertainers are a unique blend of medieval re-enactors and LARPers involving audience interaction to reflect the time period 500 to 1400 A.D. Attendees are encouraged to dress in medieval attire for the conference and banquet, but it is not required.




View our Banquet page for more information ›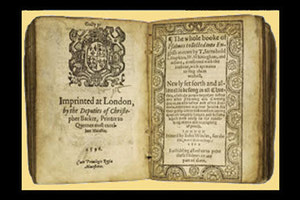 The Conference Syllabus contains lecture material provided by conference speakers, plus business information about our generous sponsors. The syllabus will be produced in PDF and as a large soft-cover booket.
PayPal accepts credit cards. A PayPal account is not required to purchase items online. Preview the Registration Package. Consider pre-conference tours. Determine conference attendance. Select your sessions. Attending the Banquet?
The 2017 AGS "Ye Old Genealogy Faire" Marketplace will be located in the Radisson Hotel & Convention Centre, Networks Room. Tables are 3 x 8 for $30 for the entire weekend. Wi-Fi and power available. See our Marketplace webpage for more information.