Home / Resources / Alberta Homestead (Home page)

Alberta Homestead Index
Instructions:
The Alberta Homestead Index can be searched by surname and or given name, legal description, place name and or by PAA Accession number.
To start searching for a homesteader, begin typing a single letter, a combination of letters, or the full Surname in the search box. Filter your search by adding more letters, or a Given name. Add a section or township number if you wish. As soon as you type in letter(s) and/or numbers—searching is instant. There are no search buttons to click.
Example: type in "cyz" (without the quotes) into the Surname search box. The return hits will be:

Cyzanievich, John
Skacyz, Michael
Turnocyz, Joe




Some research tips:

Interview family members
Check local history
View property maps
Peruse municipal tax records




This database is character sensitive, not case sensitive. It requires no wild cards or truncation for searching. To return to your search list, click on Back to Search. Entries read will be marked . Currently there are no images in this database.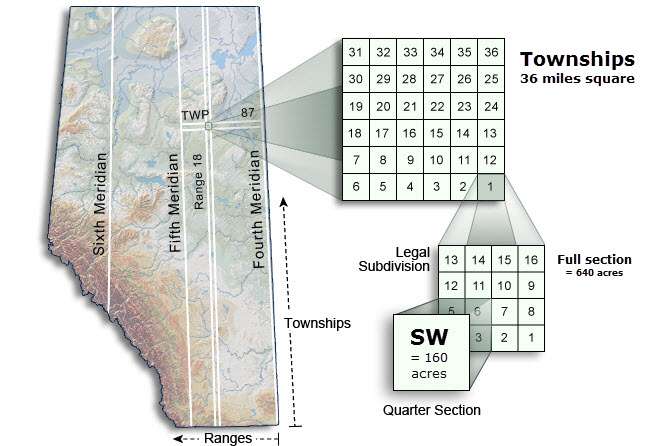 Column Descriptions:
SURNAME

—is the last name of the individual



Given Name

—is the first and perhaps middle names of the individual



Sec.

—section of land



Twp.

—township

numbers, run north and south
Rge.

—range numbers, run east and west

W_of the—West of the meridian

. In Alberta, there are three meridians: 4th, 5th and 6th. View the map for placement.
Placename

—the town, village or hamlet of residence

PAA Ref

.

—

Provincial Archives of Alberta accession number

Film

—

PAA microfilm number the homestead file number is on

File

—

Ottawa's homestead file number

Scope of the Index:
The Alberta Homestead Database was compiled by AGS volunteers transcribing the Applications for Alberta Land Patent, 1885‒1897 and the Alberta Homestead Records, 1870 to post-1930. The database is continually being updated.
---