Celebrating Alberta
With February's issue of Relatively Speaking, the AGS Media is beginning a feature that will coordinate the AGS website and the Society's quarterly. This space will briefly mention events pertaining to important provincial and community activities, exhibits, conferences and other meetings. These items will be updated regularly so readers should check the website often.

---
Centennials during 2017 in Alberta
... and a Sesquicentennial for Canada!
—by Denise (Juchli) Daubert
We've recently put up our 2017 calendars at home and at work. A brand new year is here!
For genealogists exploring their roots and ancestral stories of settlement in Alberta, there may be opportunities for research if there are ties to a town celebrating a Centennial during 2017. There may be family links to an association or a school marking one hundred years. Or, ancestors may have worshipped at a church marking the one-hundred year milestone.
Centennials often mean that there are homecomings, commemorative books and historical displays planned. Centennial websites can include historical on-line exhibits and timelines of the history of a community or church etc.
Communities
The Village of Edgerton (east of Wainwright) will celebrate their 100th Anniversary from August 11 to 13 this year – the theme chosen for the homecoming weekend is Always Home. A great outline of events over the weekend is presented on the website http://www.edgerton.ca.
Clubs & Associations
For those with ties to 4-H Alberta it is interesting to note that this year they will commemorate one-hundred years of "community, friendship and opportunity". The 4-H Centennial Fever Event will bring together past and present members for five days in August at the Old Regional Exhibition (in the Town of Olds). The website for further information is: http://www.4h.ab.ca.
Exhibits—The McLaughlin Story: From Immigrants to Auto Barons from 20 May 2017 to 9 October 2018 (17 month period).
This is referred to as a two-component exhibit - with one half being displayed at one museum, and the other half being displayed at another museum.
The Remington Carriage Museum (in Cardston) will showcase the McLaughlin Family's earlier history with the collection of horse-drawn carriages while the exhibit at the Reynolds-Alberta Museum (in Wetaskiwin) traces the evolution from carriages to cars with the largest Canadian collection of McLaughlin and McLaughlin-Buick automobiles.
See www.history.alberta.ca/remington/ and www.history.alberta.ca/reynolds/ for further information.
Schools
In the category of post-secondary education, if an ancestor or relative (or you) graduated from the University of Alberta School of Dentistry (now called Faculty of Medical Dentistry), there is a celebratory weekend planned in late September commemorating one-hundred years. You can find details on their website at http://www.dentistry.ualberta.ca. Also on the website you will discover a digital brochure titled Memory Lane.
Churches
In this category there are two churches commemorating their centenaries during 2017 with planned celebrations: Okotoks United Church and St. Anne Catholic Church in Fahler.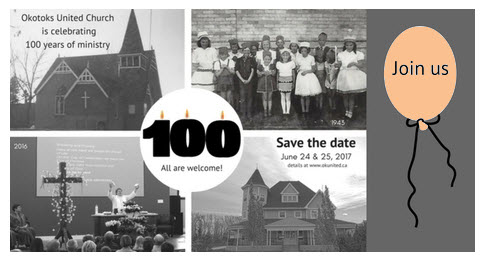 For Okotoks United Church Centennial Celebration details for June 24-25, 2017, see the web-link titled Ministries at http://www.okunited.ca. To learn more about the June 18, 2017 Centennial Celebration being planned by St. Anne Catholic Church see http://www.arhgm.ca (Centennial Celebration link).
There are four other churches celebrating centennials this year and each of them is on The Alberta Register of Historic Places. You would need to check directly with them if a centennial event is planned during 2017. Or, you could contact the county office of the county they are located in to make enquiries.
One of the churches is in Lamont County and it was placed on the Alberta Register of Historic Places in 2006. The Presentation of the Blessed Virgin Mary Ukrainian Catholic Church was built in the Byzantine tradition.
The second church is in the Taber District and was placed on the register in 1987. Of special interest and tied to Enchant Evangelical Free Church is that the Enchant congregation was the first Free Evangelical congregation formed in Canada.
The third church celebrating a centennial is St. Mary Ukrainian Greek Orthodox Church which is located in the County of Two Hills; this church was named to the Alberta Register of Historic Places some thirty years ago (1987).
The fourth church celebrating one hundred years is Ukrainian Catholic Church of the Holy Cross in the Thorhild area. Interestingly, it began as a small cabin in 1917 before the church was built; it was placed on the register in 2004.
It happened in 1917 ...
Of historical significance, one hundred years have passed since Alberta became the first province in Canada to adopt a minimum wage law for women. This was a very important milestone for women in Alberta.
Also noteworthy from 1917, Alberta passed The Dower Act, providing that a homestead in which a wife had a "life interest" could not be disposed of without her consent.
Another very important milestone for women in Alberta!
Mention of either of these facts on a family timeline or in a female ancestor's story should they be applicable would be intriguing additions to stories you are writing.
Canada 150
As Alberta is part of Canada, our province will be included in nation-wide Canada 150 commemorations. 2017 marks the 150th Anniversary of Confederation. A special year with our Sesquicentennial to celebrate!
This commemoration ties in with genealogy in that the history in terms of immigration and settlement of our country will be celebrated and honoured.
Within our own Society, see information on the Canada 150 project undertaken by the Wetaskiwin Branch. Eleven members of the branch worked together to publish a booklet titled School Days Memories. The booklet can be downloaded from their website at http://abgensoc.shoutcms.net/wet-publications?mid=1058. What a special project to commemorate Canada 150!
In summer 2017, both the Provincial Archives of Alberta (PAA) and the Alberta Legislature Visitor Centre, both located in Edmonton, will feature exhibits tied in with Canada 150. The one at the PAA will celebrate Alberta's unique contributions to Canada while at the Alberta Legislature Visitor Centre (Borealis Gallery), the exhibit titled The Dream We Form by Being Together will be featured.

Women's Hands Building A Nation is an exhibit that will be on display between May and August at Edmonton's Alberta Craft Council. The exhibit will showcase quilting, rug hooking and needlework by The Chinook Guild of Fibre Art (of Calgary). Many of the items on display may remind you of something handmade by an ancestor or be similar to a treasured heirloom you have from a great grandmother or great aunt.
Several Alberta museums will be featuring Canada 150 projects. The Ukrainian Cultural Heritage Village east of Edmonton will unveil the restored homestead built by the grandparents of Alberta`s former premier Ed Stelmach ... plus a farmstead once owned by Galacian settlers.
At Heritage Park in Calgary, staff at the park are currently restoring a 1905 wooden Colonist rail car—one of just two left in Canada. An accompanying exhibit will launch on July 1st focusing on the lives of the settlers who travelled across Canada.
If travel plans perchance include a visit to Ottawa sometime after July, the Canadian Museum of History will open a permanent exhibition in conjunction with Canada Day 2017. The exhibition is titled Canadian History Hall and will tell the stories of our country and how Canada's past is still relevant today.
What could be more exciting than to embrace and celebrate Canada's history and our heritage this year? The bonus --- we will also be making history.