The Alberta Genealogical Society would like to extend its sincere appreciation to all individuals for their support. After all, without your generous and dedicated participation, inspiration and individual talents the Society would cease to exist.

Your membership enabled us to accomplish so much this year.
We held our 2016 GenFair "Pulling Together Your Family History" hosted by the Drayton Valley Branch, held at the Royal Canadian Legion, Drayton Valley, Alberta on April 23. Over 69 people attended the one-day faire to view the displays, purchase the vendor's wares and listen to the speakers. The keynote speaker was Ronald Kelland who was informative about geographic place names, both present and past in Alberta. Susan Haga spoke on what information can be found between the censuses; and Lianne Kruger spoke about Google Search and Google Drive. More information can be found on http://www.abgenealogy.ca/2016-genfair-and-agm-results?id=777
The Brooks & District Branch celebrated its 35th Anniversary on 23 January 2016. The branch hosted an open house for members and others, complete with a special cake-cutting ceremony. In attendance for the afternoon were several past and present members. The group participated in opening of a time capsule the club had sealed in 2005 for Alberta's Centennial. Inside were pedigree charts from members, a copy of the local newspaper for that week and many other interesting items. Read more at http://www.abgenealogy.ca/brooks-35-years-in-the-making?id=777

On Saturday, 13 February 2016, the Fort McMurray Branch held a grand re-opening to celebrate their new location at 10019 MacDonald Ave, Unifor Building. Several people from the community stopped by and chatted with their librarians, and check out their new home.

Educational courses were taught province-wide: Grande Prairie's "Family History Day"; Edmonton's "Tracing Your Family Tree" course and elsewhere. Several presentations were in full attendance.

A salute should be given to Wayne Shepheard, AGS Editor who gave the Society's journal, Relatively Speaking a whole new twist starting in August 2015. A new cover was designed, and themes were produced to align the focus of the issue with contributions written by local, regional and international authors. Learn more at http://www.abgenealogy.ca/our-journal
We were able to complete phase two in developing a wonderful new website by migrating the AGS Homesteads over to our new web company Mediashaker, and building a new database—the Relatively Speaking Digital Library listing 43 years of articles, all searchable by keyword, author, date and or subject—to be online before year end. View Homesteads at http://www.abgenealogy.ca/alberta-homestead-index
In February 2016, the Wetaskiwin Branch launched their new website reflecting their specialized genealogical resources and other local information. Find out more by perusing their website at http://www.abgenealogy.ca/wetaskiwin-branch
Red Deer joined the AGS Web Umbrella in late September. This model will be reviewed at their upcoming general meetings for commentary and expansion. See more at http://www.abgenealogy.ca/red-deer-district-branch

Finally, the Society's membership campaign reached a record high inviting over 136 new members from 1 October 2015 to 30 September 2016.
We're proud of what we've been able to do so far, and we could not have done it without you! With your help, we are looking to do more.
For 2017, we need your commitment even more to accomplish greater things:
Developing a new database structure and migrating the cemetery database. It will be similar to Grande Prairie's Gravemarkers of Northwestern Alberta database found at http://www.abgenealogy.ca/view-cemetery-index

Sponsoring our two-day 2017 AGS Conference medieval "Ye Olde Genealogy Faire" scheduled for April 2017 at the Chateau Louis Conference Centre, Edmonton. The chat is that two speakers are lined up talking about DNA.

And so much more. Join us!
Please consider renewing your 2017 AGS Membership early.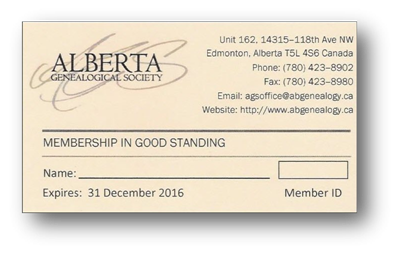 Memberships, research services and government grants pay only a portion of the Alberta Genealogical Society's operating expenses. We depend on support from generous individuals like you to help fund our library collections, host conferences and special workshops, to continue ongoing genealogical projects and so much more.
Our 2017 membership campaign starts October 1st.
Memberships run from January 1st to December 31st and we cannot afford to lose you.
Renewing is easy. Members have several options in renewing:
online using Become A Member or the AGS Store

downloading our new 2017 Membership Application Form ›

email or phone the AGS Office and receive it by email.
Members can pay in person or by regular mail to the AGS Office. Payments can still be made by cheque, money order, credit card, phone order or with cash if paying in person.
Note
: Unless the current year is specifically requested, membership dues paid after September 30th will be applied to the following year. Need more information regarding AGS Membership Benefits? Go to
Become A Member ›
Once again, the Alberta Genealogical Society would like to extend their sincere appreciation for your continuing support. If you have any questions or concerns please contact the AGS Office at 780-423-8902 or email AGS Office ›
We love to help!