Our Family Home - Here in Alberta and Far Away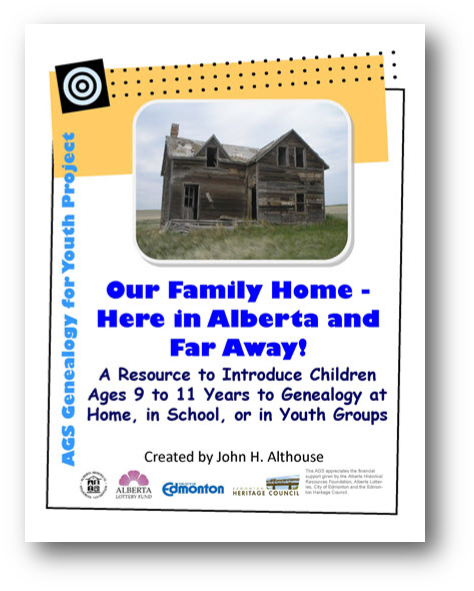 Unit 2—has been specifically designed for children between the ages 9 to 11. It begins by examining the child's family home in Alberta. The resource surveys the locations of this home, the features that made this home a desirable destination for people including the child's ancestors, and that a home changes through time. This unit studies that "place of origin" and examines how it is like and at the same time different from the family's present home. It also introduces the child to the idea of "legacy" as family, places, and cultures do much to shape who families are and how we live.
---



Our Family Home - Here in Alberta and Far Away is designed to be flexible and adaptable. This unit of study may be used in its entirety, or selected activities may be used if they better meet your needs and those of the children that you instruct.

Adults using this unit should familiarize themselves with it thoroughly. Recommended resources should be acquired before beginning the unit. It is the Alberta Genealogical Society's desire that this module provide an interesting and enjoyable introduction to family history—a pastime children can follow for a lifetime.






From picture books to introducing short stories can be a great way to open a discussion about family and family history with children ages 9 to 11. Reading books aloud with your child may spark interest and questions in their own family and its past. Below is a short list of titles related in content to Our Family Home - Here in Alberta and Far Away! that could be used. For more titles, click the list.




A is Alberta : A Centennial Alphabet . . . by Ken Tingley, Simple Truth Publications, 2005. ISBN-13: 978-0973350029 (Hardcover).

One of our many homes' is the province of Alberta. This book through text and art displays the variety of our home province. It presents places that span the alphabet and provides interesting background on them. What makes each of the places presented in the book special? What makes each of them a home? Perhaps, the child may suggest other words to replace those used for each letter in the book which might have been used and what should have been said and shown on the related pages.

A Prairie year . . . Jo Bannatyne-Cugnet. Tundra Books,1994. ISBN-13: 978-0887763342.

Covering a year, this book with colourful illustrations describes the everyday life experienced by children living on a Western Canadian farm. It examines many events familiar to those who have lived on farms but that may be totally unfamiliar to urban children who have experienced life in a rural home. The simple story is accompanied by beautiful artwork which can lead to a discussion and questions about home in rural locations. This is especially helpful for cases where a family has transitioned to an urban setting from a rural one which the younger members may not have experienced.

Baba's Babushka a Magical Ukrainian Easter . . . by Marion Mutala, Regina: Your Nickel's Worth Publishing, 2012. ISBN: 978-1894431705.

Natalia, a young girl, is swept away from her home in Western Canada and magically transported back in time to the Ukrainian village of the past where her ancestors once lived. There, she learns who they are and sees how they once celebrated Easter. She recognizes many features of the celebrations that she has seen practiced at her home in Canada. While this story centers on a single culture, it can be used as a means of opening up the discussion about any ancestors, any culture, and the legacy of any immigrant group.

The Memory String . . . by Eve Bunting & Ted Rand. Boston: Houghton Mifflin Harcourt, 2000. ISBN: 978-0-544-55547-1.

Laura has constructed a memory string from items representing important events in her family history. The buttons that she cherishes most are those that have associations with her late mother. However, one day the string breaks and one of the prized buttons becomes lost. The book serves as a good means to discuss what things about family and home are important to your child. An important part of a home is the relationships that develop between all those who live in that home. This book examines Laura's evolving relationship with her step-mother and the future of the memory string. Laura comes to realize that family histories do not end with the death of a single person but continue and evolve through time.




Sidewalk Flowers . . . by Jon Arno Lawson and Sydney Smith. Toronto: Groundwood Books, 2015. ISBN 978-1-55498-431-2.

This book has no text, no written story. The story is told solely through its pictures. The child can develop the story to accompany them. This story occurs in a city. The features shown in the illustrations of this book can be used to draw out the story and the features of the cityscape which may similar to the one which is your home. The child can tell you about his/her home in the city with the aid of this book.

Note

: All the above books are available at the Edmonton Public Library, except

A Prairie Year.

This book is available on interlibrary loan through

The Alberta Library Online ›

Unit 2, Our Family Home - Here in Alberta and Far Away is copyrighted and the intellectual property of the Alberta Genealogical Society, Inc. (AGS).

Who can use it:
any individual or group for the express purpose of introducing genealogy to children individually or as members of a group

It may be used by schools, by youth groups, or by individuals in a family

It may be downloaded and reproduced in part or in whole solely for this purpose
This series
shall
n
ot
be used
for any other purpose or sold by any individual or group. It is free to everyone, whether an Alberta Genealogical Society member or non-member, to introduce some of the important basics of the family, its forms, its purpose, its functions, and its past; and genealogy to children in a specific age group. It is our hope that these resources will create an interest in genealogy and family history in children.