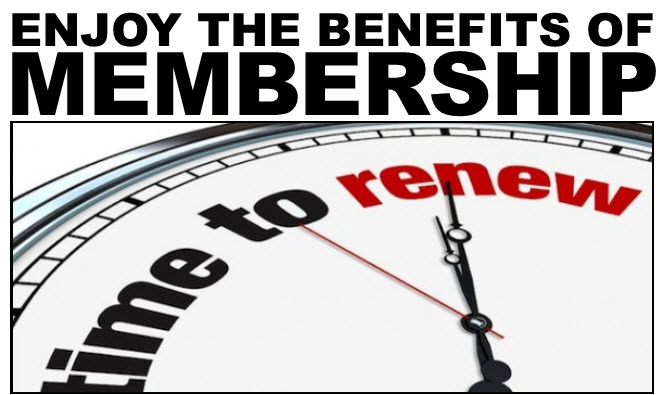 The Alberta Genealogical Society would like to extend its sincere appreciation to all individuals for their support. After all, without your generous and dedicated participation, inspiration and individual talents the Society would cease to exist.

Your membership enabled us to accomplish so much in 2018.
The Camrose Branch, of the Alberta Genealogical Society presented GenFair "All Roads Lead to Family" chaired by Janine Carroll and Deb Trout plus several wonderful volunteers. The event was held on 21 April 2018 at the Camrose Masonic Hall, and considered one of Alberta Genealogical Society's outreach programs in promoting the interest in family history. Several members and vendors help answer queries through one-on-one conversations, computer look-ups, and presentations. Door prizes, merchandise for sale, community think-tanks and so much more were there to assist attendees. Over 110 people attended the single-day affair. Two speakers from the Edmonton area: Glynys Hohmann from the Provincial Archives of Alberta and Rosella Peterman, retired from a land survey company enlightened the audience about the history of Alberta's vital statistics (birth, marriage, and death) records and discussed what records are held by the provincial archives and how you can access them. Rosella spoke on how to garner information from land records and the 'pull-effect' to bring in settlers. Discussion include locating land records in Eastern Canada and the USA. When opportunity rose, attendees took advantage of the Exhibitor's area viewing art, cultural and historical displays, and purchasing vendor's wares.




In February 2018, the Society started advertising the successes of their AGS Youth Coordinator Program initiated by retired educator, John Althouse. The first branch featured online with a little splash was Wetaskiwin's Youth Genealogy from the original article written by Patty Caputo published first in Roots & Branches Newsletter, v16:1 (Jan 2018). Patty and grandchild, along with other students who participated in the project did a fantastic job! For more information, visit http://www.abgenealogy.ca/wet-youth.




Theme pages were considered a few years ago as an additional electronic outreach program for AGS members and incentive for potential members. Grande Prairie District Branch took the leap and we started with Fern Dyke's brain-seed "Mennonite Research". This webpage is made up of creditable resources to frequently used websites, online databases, electronic and printed books and look-ups by volunteers. View the list at https://www.abgenealogy.ca/mennonite-research.




In Autumn 2018, two branches celebrate their 40th Anniversary with the Alberta Genealogical Society: Medicine Hat & District Branch and Grande Prairie District Branch. Medicine Hat is holding a conference with DNA specialist Diahan Southard and author/blogger Gena Philibert-Ortega on 12-14 October 2018. Registration is still available. For more information about this conference visit http://mhdgs.ca/




Many Branches continue to compile and index newspaper obituaries and transcribe grave markers. Medicine Hat continues to scan the old Alberta Government Telephone (AGT) project. Results and new scans can be found at http://mhdgs.ca/phonebooks.html




The AGS website and Branches under the AGS Web Umbrella received over 37,500 viewers, most from Canada, and several from the U.S., UK, Germany and Australia at 2017 year-end—an increase of 15,000 from 2016.






We're proud of what we've been able to do so far, and we could not have done it without you! With your help, we are looking to do more.
For 2019, we need your commitment even more to accomplish greater things:
Developing a new database structure and migrating the Cemetery/Surname database. It will be similar to Grande Prairie's Gravemarkers of Northwestern Alberta database found at http://www.abgenealogy.ca/view-cemetery-index
Sponsoring our three-day 2019 AGS Conference "Images Through Time" scheduled for 26-28 April 2019 in Edmonton, Alberta.


And so much more. Join us!
Please consider renewing your 2019 AGS Membership early.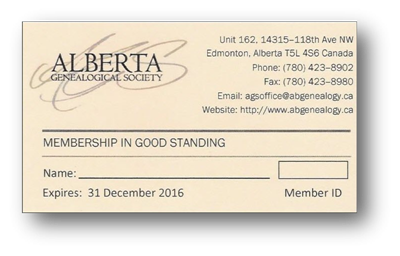 Memberships, research services and government grants pay only a portion of the Alberta Genealogical Society's operating expenses. We depend on support from generous individuals like you to help fund our library collections, host conferences and special workshops, to continue ongoing genealogical projects and so much more.
Our 2019 membership campaign starts October 1st.
Memberships run from January 1st to December 31st and we cannot afford to lose you.
Renewing is easy. Members have several options in renewing:
online using Become A Member or the AGS Store

downloading our new 2019 Membership Application Form ›

email or phone the AGS Office and receive it by email.
Members can pay in person or by regular mail to the AGS Office. Payments can still be made by cheque, money order, credit card, phone order or with cash if paying in person.
Note
: Unless the current year is specifically requested, membership dues paid after September 30th will be applied to the following year. Need more information regarding AGS Membership Benefits? Go to
Become A Member ›
Once again, the Alberta Genealogical Society would like to extend their sincere appreciation for your continuing support. If you have any questions or concerns please contact the AGS Office at (780) 423-8902 or email AGS Office ›
We love to help!