Become a Member

The Alberta Genealogical Society welcomes anyone with an interest in genealogy wherever your geographic location may be. Membership runs from January 1st to December 31st. If membership is paid after September 30th, funds will be applied to the following year.

Become a Member or Renew Membership
We have three options:
Online using the AGS Store.

Download form and mail to the AGS Ofifce 2020 Membership Application Form ›

Email or phone the AGS Office and receive it by email.
Payments: Can be made by cash, cheque, money order, phone order or by PayPal (PayPal account or credit cards).
A membership is your passport to several resources: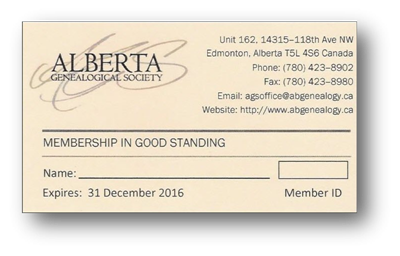 Participate in the activities of one or several of our ten Branches throughout Alberta

Contribute to a Branch monthly meeting

Receive a "New Member Kit" that gives you more insight about AGS, starting genealogy and forms

Submit 'surname queries' to our free online database, helping you to find a connection with others researching the same family in Alberta or around the world

Access the AGS Cemetery Database through our online Members "My Account" area, and where available, use Ancestry.com in a branch or library setting
Get our Relatively Speaking Journal available in print or electronic copy; plus four years of digital back issues available online for free!


Visit our main and Branch libraries featuring over 6,000 books on local history, guidebooks, microform, maps, and CDs.

Take part in historical and genealogical projects specific to Alberta

Provides a $5.00 discount to Regular or Senior memberships who are also members of any one of the provincial BC, SK, MB or ON Genealogical Societies (with proof of current membership).
Workshops and conferences
Enroll in our genealogical courses where available

Attend one-day workshops networking with other genealogists

Register for an all-weekend provincial conference (held on odd years)

Engage with us at Gen-Fair and take the opportunity to talk with veteran genealogists or mentors (held opposite to conferences years)

Join one of our Special Interest Groups (SIG) › where available
Know more about us. Download our AGS Brochure ›
AGS now has regular and discounted memberships for those new or renewing. Members opting from print to a digital subscription receive a discount. Having an electronic subscription to our Journal will help save the environment by reducing paper and shipping. In addition, the reduction of printing and postage expenses allows us to reallocate funds to improved benefits for Society members.