Visiting Alberta's Past :

Deville's St. Marguerite's Church, 100 Years Old!
by Peter Staveley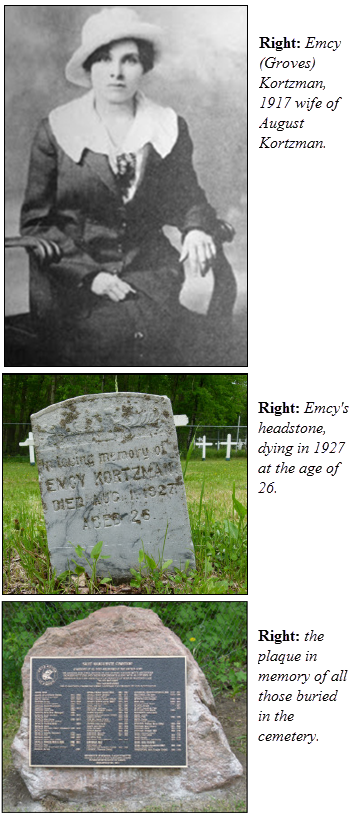 Readers may recall the article describing the history of St. Marguerite's Church which appeared in the November 2011 issue of Relative Speaking. This remarkable log built structure has endured the test of time surviving, not only the harsh Alberta climate, but fire and sadly vandalism. On June 2nd I joined the local community and many visitors to celebrate the 100th anniversary of, not only this beautiful church, but also the nearby Forest Ranger Station. The weather cooperated allowing everyone to enjoy the day long festivities: a pancake breakfast in the 60-year-old Deville/Cooking Lake community hall, the unveiling of a memorial plaque identifying the names of the known 'residents' in the cemetery, then concluding with a birthday cake, music by the local Jolie Butte Band and presentations by MLA Dave Quest and Councillor Bonnie Riddell on behalf of Strathcona County Mayor and Council.
The memorial plaque was an initiative that been in the making for two years, spearheaded by a six person committee chaired by Darlene Donald. Those present for the unveiling ceremony included not only these dedicated organizers but also Cecil Melrose of the Métis Nation of Alberta; without their generous. Financial contribution it would not have been possible.
While there I had the opportunity to receive a tour of the cemetery by Robert Swizinski, President of the Friends of Deville Society, who pointed out the burial locations of many of the originating families of the area including, not only his own ancestors, but also one he always views with much sadness, that of Emce Kortzman, a young woman who tragically died in 1927 at only 26 years of age. A photo of this lovely lady appears in Land Among the Lakes, a book of the history of the area written in 1983 by Robert's aunt, Mildred Stefizsyn, a long-time resident and local historian.
The dedication of the residents of Deville and the members of the Society will ensure the church will survive another 100 years.
Previously published in Relatively Speaking, August 2012 (v.40 #3).