Set aside Saturday, April 24, 2021 !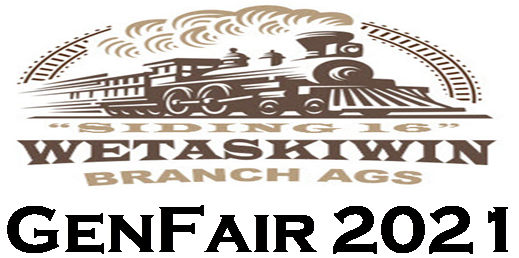 Saturday, April 24, 2021
12:30 -

3:00pm

Presentations will be approximately 40 minutes each,
with breaks between them.

"What's in a Name?" Discover how this region of Canada was settled, and why Wetaskiwin was known as "Siding 16" – Dr. Karen Aberle, PhD.
"Finding Richard" –- "The search for an unknown gentleman only known as Dick"- Sandi Ratch, MA, Heritage Consultant
"The Legacy You Leave" – Things to Tell your Grandchildren- Claudia Malloch, Family History Consultant

3:00 -

4:00 pm

AGS Annual General Meeting
This free event will be broadcast via Zoom.
Please register to attend at: https://tinyurl.com/AGSGenFair2021 prior to April 22, 2021
You will receive a confirmation email when you register. Log-in instructions will be emailed to you prior to April 24th.
Thank you Wetaskiwin Branch for being willing to host this again in 2021, and for your work in 2020.