Irish Catholic Parish Registers
The National Library of Ireland's (NLI) collection of Catholic parish registers on microfilm contains records of baptisms, marriages and deaths from a majority of parishes in the Republic of Ireland and Northern Ireland up to 1880. Today, they have been digitized and are free to access through the NLI website at http://registers.nli.ie/
Some Background
The National Library of Ireland gathered parish registers from nearly every diocese in the Republic of Ireland and Northern Ireland for filming. The microfilming began in the 1950s and completed over 20 years later. After filming, the registers were returned to their original custodians.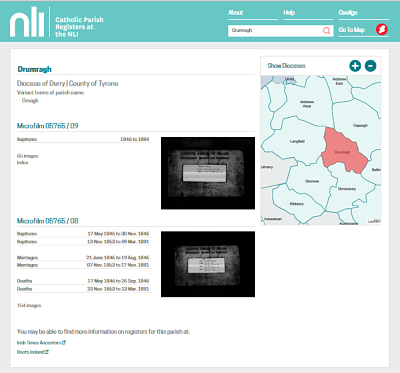 "Additional filming of registers from a small number of Dublin parishes took place during the late 1990s. As a result of this work, the NLI holds microfilm copies of over 3500 registers from 1086 parishes in Ireland and Northern Ireland. The start dates of the registers vary from the 1740/50s in some city parishes in Dublin, Cork, Galway, Waterford and Limerick, to the 1780/90s in counties such as Kildare, Wexford, Waterford and Kilkenny. Registers for parishes along the western seaboard do not generally begin until the 1850/60s."
The Project
With the growing number of individuals interested in family history, the NLI made the decision to digitize the microfilmed Catholic parish registers in 2010. The digital contractor converted 550 reels, containing over 3500 registers into approximately 373,000 digital images. These images correspond to a single or facing pages opening a register volume. (Below, part of a page from Drumragh RC Parish, Co. Tyrone, Registry of Marriages, 1859.)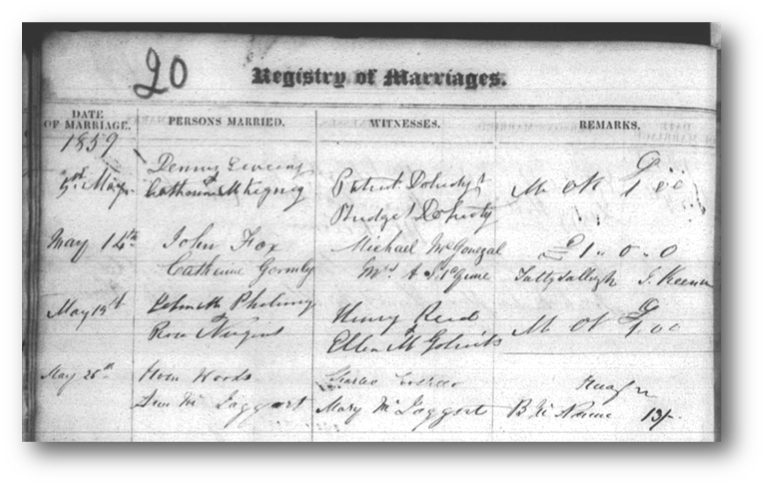 "In October 2014 the NLI Board formally approved the making available of the microfilm images online a dedicated free-to-access website. The individual registers have been reassembled virtually and made available to online users."
Notes:
The database is simple to use. Type in your ancestor's parish name. Records must be searched frame-by-frame, there is no index, but it is incredible how fast you can scroll through the pages. If you need Help see

http://registers.nli.ie/help
Roots Ireland

is a subscription site which has indexed many Irish parish records. John Grenham's

website

provides information on available indexes and transcriptions for each parish, both free and subscription based.




Web browsers: All modern browsers are supported for desktop, tablet devices and mobile responsive. Older browsers (e.g. IE.8) are not supported. Having difficulty viewing the content? Please update your existing browser or use a more modern browser (e.g. Chrome, Firefox, IE.11, or Safari).