AGS News & Events
The Alberta Genealogical Society's News & Events highlights what's happening within the Society's provincial association, our Branches, upcoming conferences and workshops, research trips and more. News moves through many different types of media, and we are beginning to coordinate with our print source the AGS quarterly Relatively Speaking. We invite you to peruse our other listings such as Celebrating Alberta promoting important provincial and community activities and events, New Online Sources gives an update to the newest genealogical resources online, and Educational Opportunities which announces national and international conferences, workshops and educational avenues for family historians.
GenFair & AGM 2021
Thank you Wetaskiwin for a great GenFair!
Medicine Hat Branch 50/50 Draw
The Medicine Hat & District Genealogical Society is excited to present their first online 50/50 raffle!

"With COVID we have been limited in our fundraising. We do not receive any government funding, our revenue comes from private donations and fundraising. One of our big fundraisers is through a casino but with COVID-19 we have not been able to have ours."
Click here for information and to enter: https://www2.rafflebox.ca/raffle/mhdgs
Notes
Open to Alberta residents only
Sales End: April 28, 2021
Draw Date: April 30, 2021
MHDGS operates their own genealogical library that is open to the public and we have special interest programs. Naturally COVID-19 has caused interruptions to our programing but we have been able to offer some programing online via Zoom. AGT/TELUS Telephone Digitizing project is our biggest project, digitizing ten decades of phone books. This project is free to view online at https://mhdgs.ca and receives approximately 1000 hits a month by viewers provincial and worldwide. With this raffle, we hope to raise money to supplement our revenue and bring this project to a close, while making one Albertan a lucky winner. We appreciate you sharing this.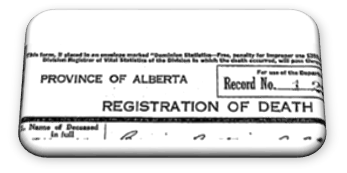 Alberta has lagged behind other provinces when it comes to its policies and methods of making public records available. Recently, a number of changes to these have been made and more are about to be made. Read more...