Visiting Alberta's Past :

St. Margaret's Church — Deville, Alberta
by Peter Staveley
The sign at the entrance says "Welcome to St. Margaret's Church" — and it means it. When you enter the church, sit and close your eyes; you feel the welcome as you can almost sense the presence of the early pioneers as they arrive by horse and buggy or boat from Hastings Lake, the ladies in their long gowns and bonnets driven by the farmers wearing their Sunday best.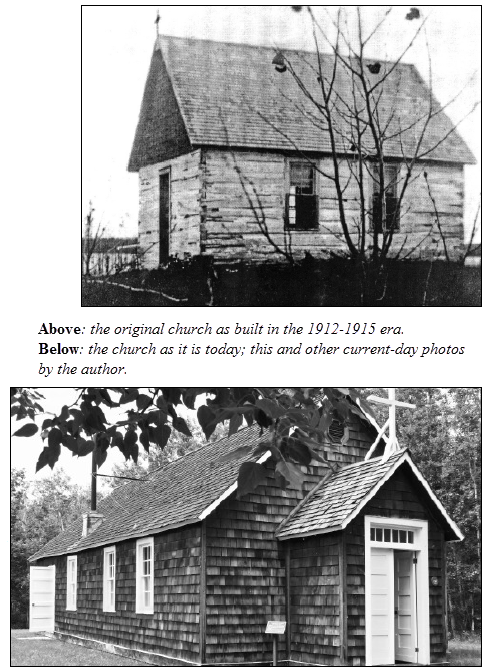 The history of this small 44' x 24' plastered log built church dates back to 1912 according to oral history but was actually established on June 1, 1915, by Rev. Emile Legal, Archbishop of Edmonton. It was known interchangeably as St. Margaret's and St. Marguerite's and was originally served by Oblate priests out of Edson and Lac St. Anne. Area families resident at this time were the Donalds, Phillips, Wards, Gladues, and then squatters arrived, many from Ireland: Morrow, Adams, Coleman and Dickie. These squatters were allowed to file claims for their homesteads in 1911.
Over the years the church has served the community and, for a period during the 1920s, was used as a mission of nearby Tofield and it served them until its disuse in the mid-1950s. With no electricity or plumbing, and only a wood burning stove to heat the building, its use was limited and in December 1930 it was actually offered for sale for use as a local church for Deville because "The present location of the church is very inconvenient and inaccessible during bad weather as there are very poor roads leading to it and it is very hard to find…."
With other churches being built in the surrounding areas St. Margaret's fell into more disuse although its cemetery did receive a certificate of approval on September 4, 1951. Following this, local residents formed a society to care for the cemetery and its use for future burials, and then in 1996 the Friends of Deville St. Margaret's Society was formed marking the beginning of a new lease on life for this historic building and its adjacent cemetery. With the assistance of many grants the church was restored, maintaining its original structure and appearance. This was no easy task as they faced many challenges, not the least of which was the dealing with some local inhabitants, a large colony of little brown bats living in the roof space. With the help of wildlife experts new bat houses were built and placed outside the church and the bats were successfully re-housed. It was during a meeting at the church to celebrate this restoration and preservation project that, much to the surprise of all in attendance, MLA Rob Lougheed presented Friends President Vivian Slugoski a certificate designating the then 91-year-old church as a Historic Resource in Alberta, a ministerial order that gives it special protection.
The church cemetery too has its own history with the earliest readable marker dating back to 1917. Quoting from the local history book Land Among the Lakes published in 1983.

In 2002 and 2004, three separate ground penetrating radar examinations were used to identify hitherto unknown burials; approximately 20 were located outside the fenced area of the cemetery. Fifteen of these new burial sites were identified as being older than 100 years. The members of the Friends have placed crosses at each of these locations within the fenced area and outside, in the church grounds, a white painted brick. In each case, wherever possible, the marker has been placed at what is believed to be the head of the burial location.
We had the pleasure of meeting with Vivian Slugoski at the church, still very active with the Friends of Deville St. Margaret's, and she showed us around the restored building and grounds. She stressed that the church has always been a community meeting place and remains so to this day. The church remains with no water or electricity and even the wood burning stove has now been removed although an outhouse is now available. This non-denominational church is available for small weddings, services and other functions.
Oh and yes, you are always very welcome!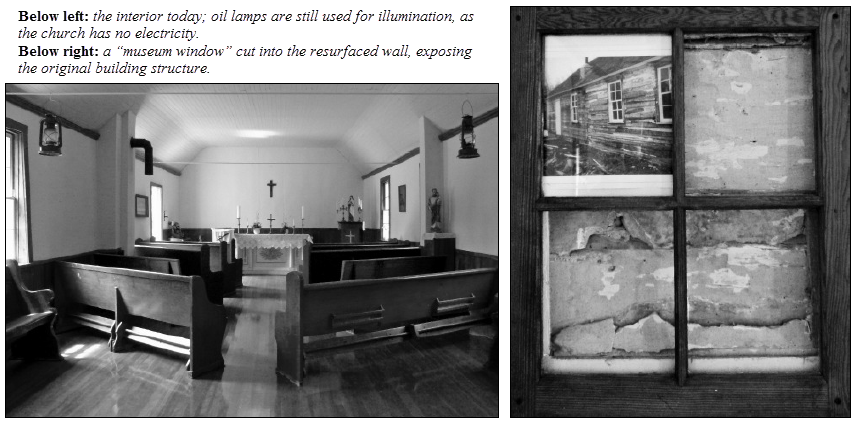 Previously published in Relatively Speaking, November 2011 (v.39 #4).