— by Leroy Koop
(Originally published in the Wetaskiwin Branch, Roots & Branches Newsletter, May 2016)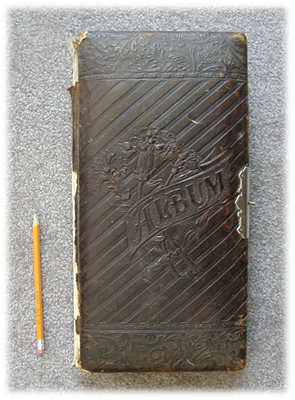 Sometime ago, and no one was able to give me even an approximate date, the Wetaskiwin Branch of the Alberta Genealogical Society was handed an old book. A renovation crew, preparing to do some work on an old house in Wetaskiwin found this book in the attic. In fact, the son of one of our members was on that crew and he gave the book to his mom who passed it on to our branch. I have been unable to determine if this act was done for safe keeping or if the branch was to research the book. The book in question was not a written book, but rather a photo album dating back to 1893. Finding this album in our branch's library, I decided to research the album.
The album has a dark brown leather cover, is about 2 1/2 inches thick, and contains 64 cabinet card photos; 63 of people and 1 of a horse. I scanned the photos, front and back, if required, into my computer and then catalogued them with all inscribed information. Only 2 photos have names written on the back, and thus the need to try to identify, not only the names of the people in the photos, but the descendants who deserve to have the album. The main clue is found on the inside cover, where is written the name "J. A. Arnold (John & Jennie)" and in another's handwriting, "Xmas 1893-From Grant's Ranch Boys". Since cabinet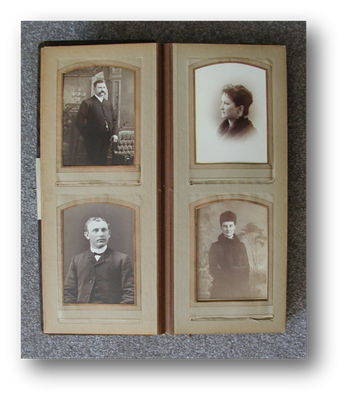 card photos were popular in North America from 1870 to 1900, the time parameter is correct. Another trait of cabinet card photos is the printing of the photography studio's name on the card. Of the 64 photos, 59 have studio names along with their addresses; 30 from Ontario, 14 from Michigan, 11 from South Dakota and 4 from other states. I decided to research the Arnold family to see if, in fact, the migration pattern would follow the studio addresses.
My first task was to determine what Arnold family had resided in Wetaskiwin. From the AGS Cemetery Database I discovered that 8 Arnolds were buried in the two Wetaskiwin Cemeteries. Two were immediately of great interest; John and Jane Arnold who had died two months apart in 1946 at age 84. From local history books I discovered that John and Jane were childless; that Jane was, at least among close friends, known as Jennie; and that in later years both had health issues. With no children, I decided to research the other 6 Arnolds in the Wetaskiwin cemeteries to rule out extended family ties to John and Jane.
Since the history books cited ill health, and since many farmers retire in towns with medical facilities, I approached the City of Wetaskiwin Archives to review the tax assessment roll for 1945/6 to see if John had purchased property in Wetaskiwin. I was lucky and found that he indeed had purchased property in the spring of 1946, only months before Jane's death in June. The City archivist was able to determine the address in our current system and also that the latest renovation permit was issued in 2003. Thus we now know where the album had been kept for 50+ years and we can assume that the album arrived at our branch after 2003.
I next checked online for John Arnold born about 1862. I found one born in 1882, 20 years younger. My heart skipped a beat when I came across a John A. Arnold with the wife's name of Jennie. He was born about 4 years after the John in Wetaskiwin, married 10 years later, with both he and Jennie passing away in the early 1940's in Ontario without any found descendants. After extensive research I found out that Jennie was earlier in her life recorded as Jane. I was left with one John Arnold, the one from Wetaskiwin, without an initial "A" and whose wife's name was Jane.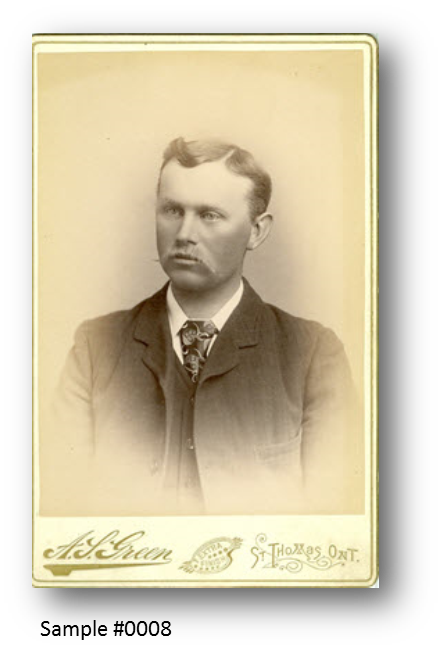 John Arnold was born about 1862 in Ontario. He was the 7th child of 8 born to William Arnold (b. abt. 1811, d. 1883) and Esther Payne (b. abt. 1825, d. 1883). William and Esther immigrated to Canada from England prior to 1849. They both died in 1883 when they were struck by a train. John's wife, Jane Leeson, was born about 1863, also in Ontario. Jane was the 2nd of 3 children born to Welburn (b. abt. 1833, d. 1920) and Sarah Ann (b. abt. 1835, d. 1919) Leeson, both born in England. Both Welburn and Sarah Ann died in Manitoba. John and Jane were married in 1885 and immigrated to South Dakota in 1891. They lived there until 1903 when a friend in Alberta encouraged them to come to Alberta where the farming was good and the land cheap. They took up farming southeast of Wetaskiwin.
John had 7 siblings, 3 older brothers and 4 sisters. His oldest sister, Harriet (b. abt. 1849, d. 1951), married a Robert Grant (b. abt. 1848, d. 1942) in 1874 in Ontario. They had one son, Carleton Wilmot (b. 1884 d. 1939), born in Manitoba. In 1901 they were managing a boarding house in Manitoba with 9 male and 2 female residents. It is highly likely that the album was gifted to John and Jane for Christmas in 1893 by Harriet and Robert Grant; thus the inscription "Xmas
1893-From Grant's Ranch Boys". Carleton married Anne Peckover (b. 1893 d. 1961) in 1925 in Manitoba. All four are buried side by side in the Brookside Cemetery in Winnipeg, Manitoba.
John's oldest brother, Henry (b. abt. 1850), married Lydia Bissell (b. abt. 1855, d. 1886) in 1874 in Ontario. They had 2 daughters, Hattie (b. abt. 1878, d. 1917) and Florence (b. 1880, d. 1922). Lydia passed away at age 31. Henry, whose occupation on the 1891 census was that of a traveller, seemed to have vanished by this time. The 2 girls were raised by a neighbouring couple. Hattie married a Dr. Jonas Thomas (b. abt 1877, d. 1958) in Ontario in 1902 and they immigrated to Michigan in 1903 where they had 3 children, Florence (b. abt. 1905), Dorothy (b. abt. 1907) and Arnold (b. abt. 1909). Hattie passed away at 39 years of age. Both Hattie and Jonas are buried in Michigan. Hattie's sister, Florence, married William McKenzie (b. abt. 1863) in 1903 in Ontario. They were childless and Florence died in Ontario.
John's sister, Mary (b. abt. 1853, d. 1943), married William Merrill (b. abt. 1853, d. 1917) in 1877 in Ontario. Four children were born there. One daughter, Anne (b. 1881, d. 1881), died within 3 months of birth and the second, Clara (b. 1884), and although a birth record was found, no additional information was discovered. By 1901 the family, consisting of dad, mom and 2 boys, was farming in Manitoba. By 1906 the family was down to 3 persons farming near the village of Elnora, Alberta. The older son, Arthur (b. 1879, d. 1952), having stayed in Manitoba, also moved to Alberta sometime after 1921. The younger son, Earl (b. 1888, d. 1918), joined the Canadian Armed forces in 1918, only to die from influenza onboard the ship heading for Europe. Earl was buried at sea. Mary, William and Arthur are all buried in the Elnora Cemetery. According to Wetaskiwin Times newspaper articles, John and Mary visited each other on a frequent basis.
Brother Frederick (b. abt. 1855, d. 1911) married Issabella Beatson (b. abt. 1858) in 1879. They had 8 children; daughters, Albertha (b. 1880), Daisy (b. 1882, d. 1888), Elizabeth (b. abt. 1885, d. 1981) and Ethel (b. abt. 1891); and sons, Edwin (b. 1884, d. 1897), Emerson (b. 1895, d. 1918), Glenerven (b. 1898) and Elvin (b. 1901, d. 1980). The family moved to Manitoba by 1906. Frederick passed away in Manitoba. Issabella married twice more after Frederick's death. Elizabeth married Walter Donnelly (b. abt. 1878, d. 1949) in 1906 in Manitoba. They had 2 daughters, Verna (b. 1910) in Manitoba and Dorothy (b. abt. 1916) in Alberta. Elizabeth and Walter are buried in Calgary. Elvin married Jessie Davis (b. abt. 1902, d. 1994) in Alberta sometime after 1921. Elvin and Jessie are buried in Nanton, Alberta. I do not know if they had children.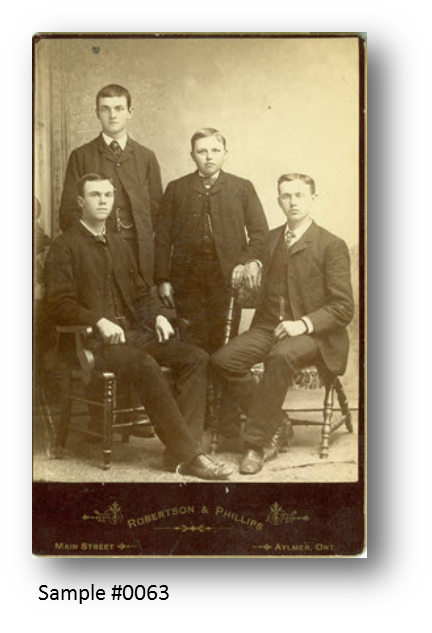 Brother William (b. abt. 1858, d. 1936) married Martha Jermyn (b. abt. 1861, d. 1942) in 1880 in Ontario. Their first son, Russell (b. 1881, d. 1898) was born in Ontario. The family moved to South Dakota in 1884. Their second son, Percy (b. abt. 1886, d. 1902) was born in South Dakota. This family of 4 is buried in Lakeview Cemetery, Clear Lake, Deuel County, South Dakota.
John's sister, Louisa (b. abt. 1859, d. 1939) married Thomas Crary (b. abt. 1858, d. 1940) in Ontario in 1881. Their only daughter, Alice (b. 1883) accompanied her mom and dad when they immigrated to Michigan in 1884 and is shown in the 1910 USA Census. While in Michigan 2 sons were born, Harry (b. 1887, d. 1959) and Lloyd (b. 1894, d. 1971). In 1910 the family, consisting of dad, mom and the 2 sons, moved to a farm near Elnora, Alberta. Lloyd joined the Canadian Armed Forces in 1918 and passed away in Cardston, Alberta. I do not know if he ever married.
Harry married Jessie Jardine (b. abt 1895, d. 1974) in Alberta where their daughter Louise (b. abt. 1913, d. 2009) and sons, Harry Jr. (b. 1914, d. 2000) and Richard (b. abt. 1919, d. 1986) were born. By 1930 Harry and family, and his mom, Louisa, and dad, Thomas, resided in Texas. Here Harry's son Robert (b. 1922, d. 1993) was born. By 1935 all had moved to Arkansas. Louisa and Thomas both passed away while in Arkansas. An interesting note is that Harry enlisted in the USA Armed Forces in 1918 while living in Canada and again in 1942 while in Arkansas. Harry is buried in Arizona. Jessie is buried in Hot Springs, Arkansas.
Harry Jr. married Ethelene Price (b. 1921) around 1940 in Texas. I am unaware of any children at this time. Harry Jr. is buried in New Mexico. Louise married a widowed lawyer, Jay Rowland (b. abt. 1892, d. 1962) in 1943 while residing in Arkansas. Jay is buried in Arkansas and Louise in New Mexico. I do not know if there were any children. Richard married Ruth Wall (b. abt. 1927, d. 2005) in 1948 in Arkansas. Richard died in New Mexico. Ruth died while residing in Texas. I do not know of any children. Robert married Bobbie Jean Arnold (b. 1928, d. 2012) in 1945 in Arkansas. [Note Bobbie's surname is that of the family I was researching.] Robert and Bobbie Jean are both buried in Hot Springs, Arkansas. I do not know if there were any children.
John's youngest sister, Elizabeth (b. abt. 1865, d. 1949), married Edgar Sells (b. abt. 1862, d. 1930) in 1889 in Michigan. Edgar and Elizabeth both died in Detroit. There were no children that I could find.
One last note. John Arnold rewrote his will on July 7, 1946 almost a month to the day of his own death. There were 3 beneficiaries in the will. John's sister, Harriet of Manitoba, received $500.00 cash, and John's sister-in-law (Jane's sister), Maretta Willison (b. 1867 d. 1950), also of Manitoba, received all household articles, his tools and his 1927 Chevrolet sedan. All remaining assets where divided
between Maretta and William Scot Allison (b. 1898 d. 1973), who was taken in by John and Jane as a teenager by 1916. John and Jane assisted William with his university education. William became a teacher.
In conclusion I believe I can truthfully say that the ownership family of this album has been determined. The migration patterns coincide with the photo studio addresses. Unfortunately, regulations do not allow research on the next two levels of descendants, so actual family names that may want the album were not determined. The names of the people in the photos in the album, as of yet, have not been determined. With this I need help.
To John and Jane, I'd like to say that I feel that I know you, but we have never met. To the descendants of the extended family that may read this article, to you I say that I'd like to meet you, and to get to know you. — Lee
—All photos courtesy of Wetaskiwin Branch, AGS and Lee Koop. NOTE: a PDF version of this article, including a full index of names researched in this story is available by clicking on "The Pedigree of a Book".