Visiting Alberta's Past :

The Churches of Lamont County
by John Althouse
Many readers will recall The Bridges of Madison County the book by Robert James Waller that was immortalized in a Hollywood movie. How many will be familiar with 'the churches of Lamont County' right here in Alberta? As we have just emerged from the confines of a long, cold winter, it is not uncommon to want to abandon the confines and bustle of urban life and venture off on country roads to new adventures in new places. A drive into the County of Lamont, northeast of Edmonton, in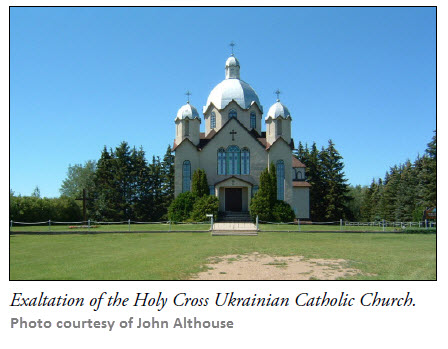 search of its iconic rural churches offers these possibilities. These routes can take us back to the area's past; a past which is older than our province.
The churches of Lamont were constructed to serve the religious needs of those who settled in this area as early as the mid-1890s. Most came from Galicia and Bukovina in the Austro Hungarian Empire. The churches that they built reflect the importance of religion in their lives. These places of worship display distinctive architectural forms reminiscent of Eastern Europe. They are not generally open to visitors, however, if you find someone working there, you may be able to convince them to take you inside for a short visit.
You do not need to make a "blind" journey in search of these unique buildings. A special 40-page guide book, titled Lamont County Church Capital of North America is available online at Lamont County website http://s3.amazonaws.com/townlife_production/public/uploads/files/0006/2330/churchtourbooklet.05.pdf A printed copy may be purchased one for $3.00 at the Lamont County Administration Building at 5303-50 Avenue, Lamont, Alberta (open 8:30 a.m. to 4:00 p.m. Monday through Friday).
This guide book provides information on all 47 churches that can be visited as a self-guided tour. The complete tour takes a good deal of time. The guide, however, has the churches in the county grouped into five separate tours organized to cover different sub-districts. An individual profile of each of the churches is provided along with a map showing the locations and the roads that lead to them. In addition, the booklet contains a brief entry for each church including directions, a brief history, and a description of the unique features.
In the past, these churches were focal points for family and community life in the area. The church was a place to gather in times of great joy and great sorrow, and usually with an adjacent the cemetery.
You can enjoy all the features that county has to offer. Perhaps, you can even trace the family connections if your family once called the area home. As you travel, photos will record images of the domed churches and other reminders of time past. There are often surprises waiting for you over each hill. I found a weathered and deserted farm house – a fantastic photo opportunity.
In Lamont County, there are a number of sites and museums to visit that chronicle the history of this part of the Northeast Settlement Block. All major towns of the area and have cafés.
There is unfortunately a cautionary tale which must accompany this story. These beautiful historic buildings are gradually disappearing. Since I initially made this tour a little over five years ago, one church has burnt down; another was deconsecrated and moved from its original site. A third church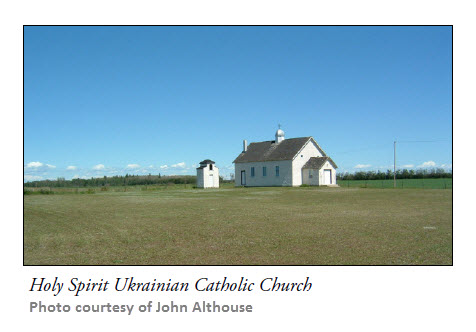 was in such dire need of repair that consideration was being given to destroying the building in a controlled burn. Fortunately, a number of benefactors stepped forward to carry out some of the necessary major renovations, and for the time being, this church has received a reprieve from the torch.
These historic churches are in a peril. They have become victims of changing times and changing attitudes. As one older resident once told me, he and his fellow seniors believe they must maintain these sacred structures that were once such an intrinsic part of each community, but simply no longer are able to do so. Initiative and intervention is needed. Many seniors think that the younger generation no longer cares about their past as embodied in the rural churches. If this is so, how much longer will any of us be able to leisurely drive country roads in search of these simple, yet beautiful places of worship which have served as silent witnesses to the history of not only the community but our province? Once, any aspect of our history has vanished it is permanently gone and this is likely to happen soon.
Originally appeared in Relatively Speaking , v.43 #2 (May 2015)