Visiting Alberta's Past :

The North West Mounted Police Cemeteries at Fort Macleod
by John Althouse
"It is a very difficult reminder that police officers across our country put their lives on the line every day to serve and protect our communities and keep us safe." ~ Prime Minister Stephen Harper (in a statement on the death of Edmonton Police Officer Constable Daniel Woodal)
Too often lately, we have been reminded that policing is perilous work in events ultimately having tragic outcomes. One day prior to the funeral for Constable Daniel Woodall, I strolled through the Historic Cemeteries of Fort Macleod – the Union Cemetery and the Holy Cross Cemetery. In both of these cemeteries were sections fenced off by white picket fences. These sections are the final resting places of several members of the North West Mounted Police (NWMP). The earliest of the tombstones on these graves was dated 1874. This visit confirmed that not only is policing a dangerous career today but it has always been so. While the pain and raw emotions associated with death may abate over time for those who did not directly know the person who died protecting us, Too often after a time, this victim may be remembered solely as a recitation of names, dates, and places; it is essential that we not let this happen and remember not only the sacrifice of each constable but as importantly remember who each of these individuals was as the human being he or she was.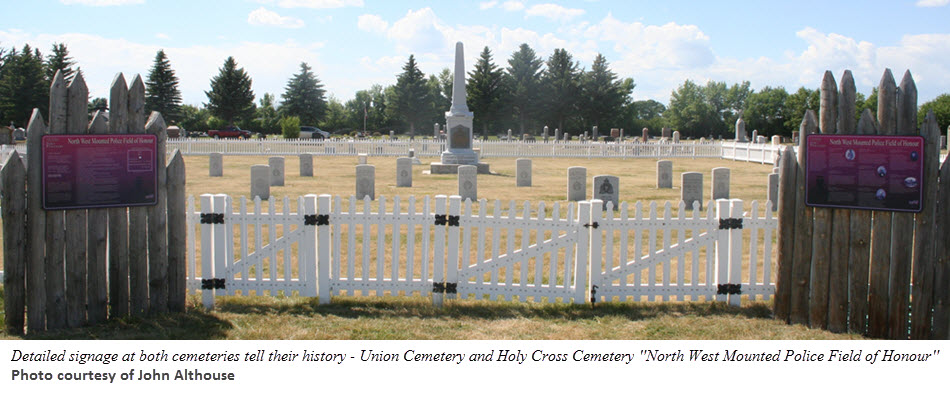 The two historic cemeteries in Fort Macleod are quite easy to find as their locations are well indicated by signage. They are located almost but not directly adjacent to each other. Both have signage detailing their history in general and that of some of the NWMP members buried in them. In Union Cemetery, the larger of the two established in October 1874, the graves are located in rear area of the cemetery. Many of the older tombstones of the cemetery are grouped near the NWMP graves suggesting that at one point this area was the central area of the cemetery. Within the white picket fence, there are 41 graves each marked by tombstones. Most of these stones are reminiscent of the granite markers on military graves. These replaced wooden crosses which once marked the graves. Four of these wooden crosses were resurrected after their replacement and now are in St. Martin's Church Graveyard in Heritage Park, Calgary, a pseudo-cemetery where no person has actual been interred. Some others can be found at the NWMP museum in Fort Macleod.
The earliest death of a member of the NWMP at Fort Macleod happened at the culmination of the Great March West, the only death on the March. The actual March began once the recruits reached Dufferin, Manitoba. They mounted horses and traversed a distance of over 1,200 km across prairie grasslands to what is now Southern Alberta. This was an extremely difficult trek. Constable Godfrey Parks who made the Great March, is identified as the "Primus Moriri" or "First to Die" of the force. Parks acquired typhoid fever during the march and succumbed to it on October 26, 1874, a little more than a week after the NWMP arrived in Fort Macleod. Yet, he was not the first to be buried in the plot in Union Cemetery. He was first interred at the Island Cemetery. A few years later that cemetery was ravaged by flood-waters and erosion, leading to Parks being reinterred in the NWMP plot in Union Cemetery.

In Union Cemetery, the earliest burial of a member on the "NWMP (now RCMP) Honour Roll" occurred in March 1876. Those listed in the "Honour Roll" are those members who died why actively performing their duties. A listing of those on the "Honour Roll" can be found online at http://www.rcmp-grc.gc.ca/hon/lineduty-exerfonc/honour-honneur-roll-tableau-eng.htm. This burial was that of Sub-Constable John Nash who died on March 11, 1876 in an accident of an unspecified nature near Fort MacLeod. Now, there is a rich set of resources on the NWMP members as their personnel files have been digitized and place on the LAC website. However, in the case of Nash, they are not much help as the bulk of the record was destroyed in a fire that swept the West Block of the Parliament Buildings in 1897. So, they do not reveal the specific details of his service or death.
What we know of him was gleaned from a series of documents gathered through the years from a variety of sources. In addition, that available information is not consistent and at times even in conflict. Other sources tell us that Nash worked as a clerk of stores at Fort MacLeod. His regimental number is 135 indicating he was one of the original 275 who made the great trek west as these numbers were assigned in sequence. There six burials of members of the force here with regimental numbers lower than 275. This means they too were Mounties who made that initial trek, although one of these died in 1942 at the age of 87. (When dealing with NWMP regimental numbers be careful as the system of numbering changed in 1878 as by then the original method of assigning numbers had been compromised and was no longer uniform through the force. This can lead to problems see "Regimental Numbers" at http://www.bac-lac.gc.ca/eng/discover/nwmp-personnel-records/Pages/north-west-mounted-police.aspx
Not all buried within this plot are members of the NWMP. Jerry Potts, a legendary Métis guide and translator, who provided invaluable service to the NWMP is buried with members of the force. His grave is number 19. All graves are easy to locate as a detailed list of the burials plus a diagram indicating their positions is posted at the entrance to the cemetery. There is another Potts, William who died 10 years before Jerry, but no one appears to be certain about who he is. Among the others buried here, there are relatives of the NWMP members a mother, two wives, and a son. There are people who served the force in a number of ancillary roles but were not members who died while working for the force who were laid to rest here. The identity of the occupant of one grave number 15 has been lost over time and is simply now listed as "Unknown."
Some buried in the NWMP are former members who settled in the area around Fort MacLeod. What wonderful tales these veterans of the force most of had to share! "The Southern Alberta Research Project" of the Glenbow Archives has some information related to the early force indexed at http://www.glenbow.org/collections/search/findingAids/archhtm/sarp.cfm The graves are well kept, the lawn is mowed, the stones are upright and in good repair. A monument placed in the centre of the plot gives testament that this is a place of honour. Engraved upon it are the words "Erected to the Memory of Their Deceased Comrades by the North - West Mounted Police Fort Macleod."
As one leaves the Union Cemetery, it is just a short distance down a gravel road to the south to Holy Cross Cemetery. It was established a short time after Union Cemetery in 1888 by Father Albert Lacombe. It is not as nearly large as the older cemetery. It is a much smaller cemetery containing only eleven graves, three are identified. The stones of the remaining eight bear the inscription "known only to God." Here, the NWMP graves also protected by the white picket fence are located quite near the front entrance.

The NWMP Sections in both cemeteries are located on flat open patches of ground devoid of the shelter of trees. This is reminiscent of the stark prairie landscape where they lived and enforced the law so long ago. Standing on this open ground, the summer heat can be oppressive. The enamelled pickets have replaced wooden ones that once girded the two cemeteries. They likely were put up in response to the powerful winds that roar through the area year-round. In winter, these winds propel snow; in summer, they propel dirt. Both of these are abrasive enough to remove paint from pickets. Imagine the effect either would have on a single constable on horseback on patrol?
The causes and circumstances of the deaths of those buried in the two cemeteries are many and varied. Most deaths were attributable to circumstances related to the work they performed in a setting that was remote and anything but hospitable at most times. A few died of circumstances likely brought about by the stress of the work or the setting in which the work was done. Although it was not yet identified, it is very likely that some men suffered what today we know as "post-traumatic stress disorder" (PTSD).
The inscription on the Alberta Police Memorial on the Legislative Grounds in Edmonton charges each of us to "'To Remember, To Honour, To Love, To Respect and To Recognize." To this, we need a detailed knowledge of the fallen individual – as a police constable. Library and Archives Canada has an excellent online database which provides the "North West Mounted Police (NWMP) - Personnel Records, 1873-1904" at http://www.bac-lac.gc.ca/eng/discover/nwmp-personnel-records/Pages/north-west-mounted-police.aspx. Such records can vary significantly in size but most often provide a wealth of information on the individual members of the early force. Yet, it is disappointing to recognize that the documentary record needed to offer a complete and appropriate tribute well is lacking in some cases to some of its early members buried in the Fort Macleod cemeteries and others buried at other locations.
Despite our attempts to honour these men for their service, it is surprising how little information about them exist especially that information that extends beyond the matters necessary of the forces bookkeeping. There are often valid reasons for this. When it comes to the details of their lives outside of the force, there is very often less information. The Royal Canadian Mounted Police have made an effort to maintain a record of their members through obituaries which appear in "RCMP Quarterly." Many obituaries, those members of the force who died prior to the establishment of this publication, have been included posthumously. The Saskatchewan Genealogical Society has prepared an index of these obituaries originally in print form but now also available on the internet at http://www.saskgenealogy.com/databases/RCMP/RCMP.htm
Two cemeteries that serve as final resting places of members of the NWMP, bring tragedy to our attention. They are remind us of their sacrifice. These hallowed grounds bear testament of one way we honour those who keep of the peace and guard public safety. However, names etched on stone and colourful signage rarely provide a whole biography. Whether long ago or today, these men and more recently women have willing taken up a calling where danger and even the possibility of death are ever present. To recognize their fellow constables who paid the ultimate price, we must come to know them not only in their role as police constables but also in terms of the person each was. We must come to know the person that each of these police constables was and celebrate that person. Only when we do this can we truly come 'To Remember, To Honour, To Love, To Respect and To Recognize' each of them.
This article has not been previously published.