Cemetery Photo Events
Photographing and Transcribing Cemetery Markers
The Grande Prairie & District Branch appreciates your time in volunteering for this vital ongoing project. It is an exciting day teaming up with like-minded people—it gives us a chance to acquaint ourselves with other members of our branch. Photographing and transcribing cemetery stones is an opportunity to digitally preserve the grave stones in our region. It chronicles history, and in return contributes to the genealogical community by making photos and inscriptions available to family historians around the world.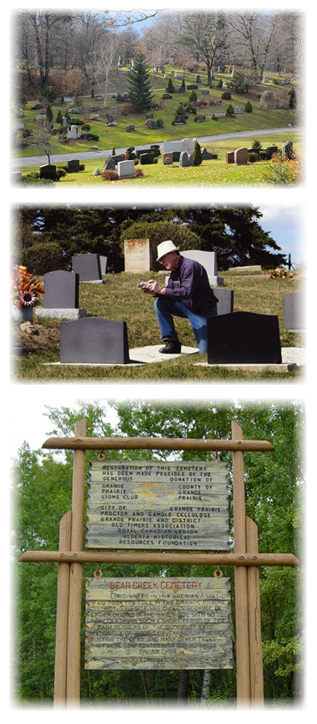 Instructions on how to prepare the stone, photograph and transcribe grave markers, will be given at the cemetery. Pencils, clipboards and transcription sheets will be provided.
Jobs of the Day
Preparing the stone.

This involves gently cleaning any bird do-do off the stone using water and a soft cloth. Cutting away any grass that obscures the face of the stone and sweeping away any dead grass in front of the stone. We do not move any family memorials placed with the stone.
Photographing the stone. You need a good digital camera selecting the jpeg setting if possible. Turn off the date and time mode. Most cemetery stones face east, therefore morning is the best time to photograph.

The best kind of day for picture taking is an overcast day with no shadows. Pictures should be centered and as face-on as possible, which may require you to kneel or squat. Assistance will be given if bushes/branches need to be held back to get the photo. If the stone is tall or long take more than one picture to capture it all. Take one from a distance to include everything.
Transcribing the stone. The information on the stone will be recorded on a supplied form. This requires legible printing and working with a clipboard and pencils.

Record name and dates. Record all writing on the stone, starting at the top. Military graves record all information on the stone.
People will be working in pairs, if possible: one to transcribe, one to photograph. This will keep the information in order.
Personal Preparation
Photographing a cemetery requires some personal planning. Bring a digital camera if you can with a new SD card. This card will be collected from you at the end of the day and returned to you after the pictures have been downloaded. Bring a hat, a jacket, sunscreen and mosquito repellent. Wear sturdy closed shoes and long pants in case of overgrown cemeteries. Place elastic bands or tie bandanas around the ankles of your pants to ward off pesky ticks. Include water or juice and pack a lunch for yourself. Don't forget to bring a chair to sit on during breaks and hand sanitizer. Bathroom facilities maybe rustic so bring a roll of toilet paper.
Tools and Equipment
Consider bringing a soft brush (toothbrush), grass clippers, soft cleaning clothes, water jug, new clean spray bottle, rubber gloves, kneeing pad and bucket to carry things in. These items will be used to clean up grave stones before photographing, if needed.
Never record/photograph alone. There is a great deal of wild life in the area.
Email gp@abgenealogy.ca for dates and cemetery scheduled.